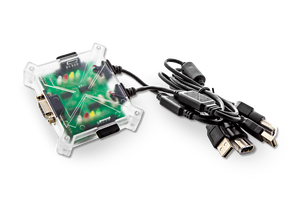 X-Arcade 2in1: PS3 + Xbox
Compatible With Any X-Arcade™
Inject the arcade experience into your home with this special bundle kit for your X-Arcade™ Joystick. Get ultra-quick, lag-free control for 1-2 Players via direct connection to your Playstation 3™, or Xbox™, no additional converters needed. Supports all PS3 firmware versions. New DualStick Mode
New Features
: Competition-level performance directly on PS3™ or Xbox™ and the new "DualStick" mode to control console games requiring the use of 2 joysticks simultaneously. Ships within 3 Business Days Lifetime Warranty Easy Returns NEW: DualStick Mode & Lag Free Design Some console games require the use of 2 joysticks simultaneously (Robotron™ or SmashTV™). The new DualStick Mode converts the right joystick of any X-Arcade™ 2 Player into the right analog thumbstick of a gamepad. Inject authentic control on classic arcade titles which use 2 simultaneous digital joysticks. This new mode is NOT recommended for 1st person shooters which need analog control.
What's Included
2 Game System Adapter Bundle 1 or 2 Players
Connectors For 2 Players On PS3 and Xbox
30 Day Money Back Guarantee
100% Fully Serviced Lifetime Warranty
Toll Free And Online Live Technical Support
All PS3 Firmware Versions Supported
  The X-Arcade™ is recognized by your console as a regular console gamepad, plug directly between your X-Arcade using the Console Cable included with any X-Arcade and either a Playstation 3™ or Xbox™.