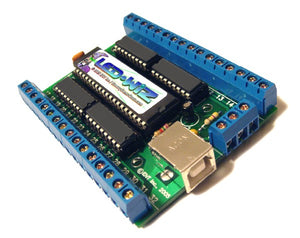 The LED-Wiz (tm) is a fully featured LED lighting and output logic controller capable of delivering up to 500ma per output at 5v DC. Programming tools are available for integration into your custom projects.
Resident control, animation and keyboard LED emulation software is currently in public beta and available for
download
.  
Features:
USB port communication and power.
Up to 16 LED-Wiz boards per system. (Device ID numbers must be unique for each LED-Wiz or LED-Wiz+GP unit on a system)
32 uniquely controllable outputs and up to about 500 Hi-Output LEDs per board (15+ per output, external power source required for this type of operation. Short duty cycles and not simultaneously active. See documentation for more details.)
48 levels of PWM intensity. Using RGB LEDs (common anode), theoretically 110,592 colors are possible.
Each individual output can be set to one of the following hardware modes. These modes are set by the computer, and after that the hardware handles them by itself.

Sawtooth (gradual up and gradual down)

SawDown (full on, gradual down)

SawUp (gradual up, full on)

Hardware pulse rates are controlled by a 7-level global speed setting.
Includes mounting hardware, printed instruction sheet and 6' USB cable.
Note: The beta "resident" software currently supports device #1 only. Additional devices are currently offered for use with 3rd party or user created applications (see below.)
The free ActiveX control from IDVT Inc. now supports up to 16 LED-Wiz devices and is available upon request. Can be used in any language that supports ActiveX controls. 3rd party DLL's are also available by request.
The documentation for the Multiple LED-Wiz ActiveX Control can be found here.
---
3rd Party Applications
with full support for LED-Wiz Technology, either directly or through plug-ins written by talented and dedicated programmers;  
Please Note: This following software is supported by its respective authors.
---
"Front End" Software:
AtomicFE
GameEX
MaLa
PowerMAME

LEDBlinky Animation Editor

and many others!